Dear Neighbour, 
This week has been jam-packed and I am excited to share it with you. Keep reading to hear about issues with the Landlord and Tenant Board, an awesome local business owner helping Sudanese refugees, upcoming community events, and so much more!
Ombudsman's Damning Report on the Landlord & Tenant Board

The long-awaited Ombudsman's report on the crisis at the Landlord and Tenant Board (LTB) was released yesterday. Housing Critic, MPP Jessica Bell and I, as the Critic for the Attorney General, held a press conference in response. 
The backlog at the LTB has grown from 20,000 in 2020 to 38,000 today and the Ford Government has no plan to address the problem. Simply put, the failure to quickly schedule LTB hearings to resolve disputes between landlords and tenants has made life impossibly stressful for many Ontarians.
The ONDP has been tirelessly advocating for years to depoliticize the appointment process and increase the number of adjudicators so that Ontarians can receive a fair and timely hearing. This report paints a clear and damning picture of the crisis. The Ford government must acknowledge their failing; then provide a detailed and costed plan with committed timelines to address the crisis. Otherwise, residents will never be freed from the misery of Ford's broken tribunal system. 
Click here to watch our press conference.
A Visit to Esra's in Moss Park & the Garden District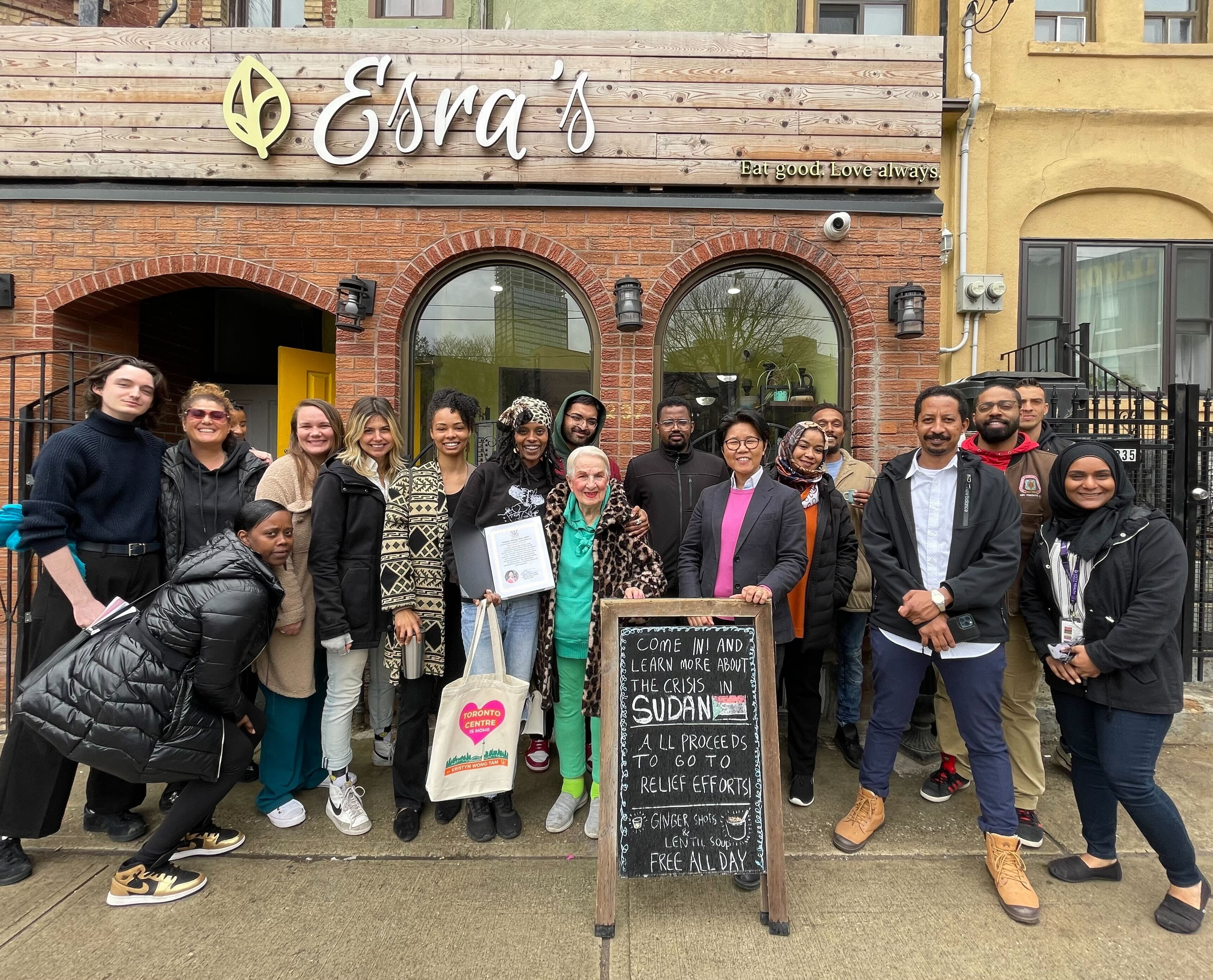 During my recent visit to Moss Park and the Garden District, I was delighted to be welcomed by a large number of supporters of Esra's. The owner, Muna Elbadri, is a remarkable individual whose resiliency and strength are truly inspiring. Not only has she managed to create a beloved community hub, but she has also extended her support to Sudanese citizens who are struggling in their home country.
This Star story highlights the journey of this small Toronto shop that averted disaster and became a source of hope and support for many. Muna's story is a reminder of the power of community and how one individual can make a difference in the lives of so many.
I am grateful to have had the opportunity to meet Muna and the wonderful supporters of Esra's cafe and speal about their advocacy efforts to support Sudanese refugees. Their dedication to the community is truly remarkable, and I look forward to seeing their impact continue to grow!
Recently, Canada opened its humanitarian doors to Syrian and Ukranian refugees. Our nation has a proud history of standing up for human rights and providing sanctuary to those fleeing persecution and violence. I'm proud to lend my voice and join the call from Sudanese Canadians asking the Federal government to once again rise to the occasion of supporting refugees. We've done it successfully before and it's time for us to do it again. To learn about the Sudan conflict, please consider this article.
This constituency week, I went door-to-door canvassing to speak with the residents of Regent Park and St James Town about their most pressing issues. We discussed topics like the need for affordable housing and how the unfavoured privatization of healthcare will impact residents. We had Toronto Centre swag to give away along with information on how my constituency office can be of assistance.
If you are interested in joining the next canvass, click here to sign up! We will be visiting every neighborhood in the riding, so watch out for us — better yet, join us!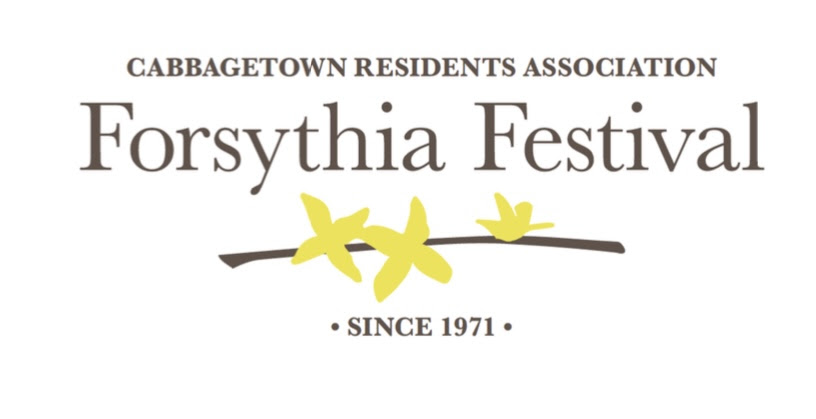 Cabbagetown's Forsythia Festival is returning this coming Sunday, May 7. The parade will begin at 10 AM at the intersection of Sumach and Winchester Street, while the festival will take place at Wellesley Park from 11 AM. to 3 PM, featuring a variety of fun activities, including a bouncy castle, mechanical bull, magician, beer garden and BBQ. Many thanks and congratulations to the Cabbagetown Residents Association for hosting this wonderful festival once again.
If you are planning to attend the Forsythia Festival, don't forget to wear yellow to join us in celebrating spring!
Grand Opening of Dr. Lillian McGregor Park

Many enthusiastic residents from the Bay Cloverhill Community and I are joining Councillor Moise and City staff to unveil the new Dr. Lillian McGregor Park this coming Tuesday, May 9 from 3 to 4 PM at 25 Wellesley Street West. 
It is difficult to to imagine that it was over 11 years ago when the BCCA and I first asked Premier McGuinty and Infrastructure Ontario to sell the land to the City of Toronto to allow us to build a new park. They said "no" many times, but the community, City Planning and Park staff and I insisted. Now look at what has been accomplished together — a new 1.6 acre park and dog off-lease area.
Toronto Centre residents desperately need and deserve more green spaces. Accessible public parks are important for our communities' collective health and wellbeing. I had always hoped that with enough community effort we could turn this abandoned lot into an urban park for generations to come.
The new park is named after Dr. Lillian McGregor, who belonged to the Whitefish River First Nation. She was a devoted nurse and a revered community leader, acknowledged for her tireless efforts to promote Indigenous culture and education. Her remarkable achievements were recognized with numerous accolades, including the prestigious City of Toronto Civic Award, the National Aboriginal Achievement Lifetime Award, and the Order of Ontario —  and now she is honoured through this remarkable Toronto park. 
If you are interested in knowing more about how this project came to be, check out the Bay Cloverhill Community Association's article here. This is a big community win and BCCA was there from the very beginning.
I am excited to support Youth Week Toronto, an annual event that showcases the talents and abilities of young people from diverse communities across Toronto. Youth Week runs between May 1-7 and  the event celebrates youth engagement in civic activities, recreation, arts, and sports.
Toronto's youth play a crucial role in shaping our city's social, cultural, and economic landscape. Youth Week provides a platform for young people to participate in free events that promote personal development, visual and performing arts, and community engagement. There will be multiple events across the city throughout the week. If you are interested in attending and supporting our youth, click the link to get more info! 
Queen Street is now closed between Bay Street and Victoria Street, which started on May 3, 2023. Metrolinx initiated the closure due to the construction of two new subway stations for the Ontario Line Subway project. 
This closure is expected to last for five years and is quite disruptive for pedestrians and businesses on Queen Street. As we have seen with Eglinton LRT, we cannot afford to bet on Metrolinx to deliver on time. Metrolinx has been instructed by the Ford government to wilfully hold back information from the public in the past, which resulted in public mistrust from our residents and businesses in Toronto. I will continue working with neighbouring MPP Chris Glover and our local BIAs to make sure Metrolinx information is delivered in a more timely and detailed fashion.
Please give yourself more time to commute and plan accordingly. You can find updates for TTC riders here.
Downtown businesses will continue to remain open and ready to serve. Please visit and support, as many businesses will be impacted due to the street closures. Let's shop local together!
TTC is seeking feedback from riders to help create plans for improving their services. The plans include the 2024 Annual Service Plan, which will focus on how the TTC can best provide service in areas affected by construction, the 5-Year Service Plan for strategic direction from 2024 to 2028. The TTC is seeking input on potential service improvements and how to allocate funding. Customers are invited to take a survey to provide feedback; final plans will be completed by early 2024. This is an opportunity for our community to voice our needs and concerns to the TTC. 
Click here to fill out the survey and take action!
Improving Community Recreation Programs & Services

The City is working with Regent Park residents and users of recreational facilities to improve the programs and services offered in the area. 

Join the information session on May 9, between 7 PM and 8:30 PM and share your opinions on what changes you want to see in Regent Park services!
The Protest at Fort York Library

I was disturbed by the recent protest at the Fort York Public Library targeting a Drag Queen Story Hour event planned for families in Toronto. The protest was an act of desperation and hate, and it demonstrates a clear lack of understanding and respect for the 2SLGBTQ+ community and drag artists. 
Drag Queen Story Hour is an event that has been embraced by communities across Canada. These events are a beacon of community for Queer families, an opportunity for children to experience the fun of gender-expansive expression. It is unacceptable for a small group of individuals to try to silence this important initiative and instill fear in the hearts of families who simply want to enjoy a fun and educational activity.
I once again urge the Ford government to pass my Bill, the Keeping 2SLGBTQ+ Communities Safe Act. As the fear mongering against the 2SLGBTQ+ community rises, the Ontario government must take steps to ensure the safety of drag artists. 
I condemn the violence and hate against drag artists in Ontario and across Canada.
Sign my petition to support the Keeping 2SLGBTQ+ Communities Safe Act!
Get Involved: Virtual Town Hall Meeting

Don't miss out on the opportunity to have your voice heard! Sign up now for the joint Virtual Town Hall Meeting with MPP Tom Rakocevic and MPP Jessica Bell. Taking place on Monday, May 8 at 7PM, this meeting will focus on improving condominium laws in Ontario. 
Condominiums are an important part of the housing market in Ontario, and it is crucial that our laws and regulations are fair and effective. By participating in this town hall meeting, you will have the opportunity to share your concerns and ideas on how to improve the laws that govern condominiums.
Register now and join the conversation on how we can work together to make positive change.
In community work, 
Kristyn
Kristyn Wong-Tam
MPP, Toronto Centre