Dear Neighbour,
I am ecstatic to throw my full support behind Olivia Chow for Toronto's next mayor! I have known Olivia for almost all my life… She has been not only a significant member of the Chinese Canadian community but also the City of Toronto. My parents repeatedly told my sisters and I that Olivia always fights for the "little guys." For years we saw her fight for our city as a City Councillor and Member of Parliament, and she's ready to do it again as a Mayor.
Yesterday, I was proud to endorse Olivia Chow, a progressive mayoral candidate for the City of Toronto, alongside Gil Peñalosa in front of City Hall.
Watch Gil Peñalosa, and I endorse Olivia! 
Addressing Ontario's Surgical Backlog
Yesterday in the legislature during Question Period, I reminded Ford it has been five years since he promised to address the surgical wait times in Ontario.
I introduced him to the innovative British Columbia government website that publishes a public list of surgical wait times for transparency. Residents of B.C. can quickly reference and rely on a snapshot of scheduled surgeries that were completed in the most recent 3-month time period available.
Since the Ontario government failed to reduce the surgical backlog, I asked Ford, "Will you do the bare minimum, and create a surgical wait time portal for Ontario patients, just like the B.C. government?" Ford dodged this simple question and passed the buck to the Minister of Health to make excuses for their failed policies.
Click here to watch the exchange. 
Public Service Alliance of Canada (PSAC) has announced that more than 155,000 public servants have gone on strike after the federal government's failure to reach a fair agreement. The PSAC strike will go down in history as one of the largest in Canadian history.
PSAC members have been voicing their legitimate demands for fair wages, job security, and a safe working environment since the beginning of the pandemic. After months of skyrocketing inflation, government workers are pushing for higher wages, protections around remote work, more inclusive anti-racism and harassment training, and ending the expensive and unsustainable contracting out of public services.
The Ontario NDP and I stand in solidarity with these workers and their demands for a fair deal. Picket lines are being set up across Canada. I encourage you to join the picket lines — not cross them. Support PSAC workers by signing our petition! 
Everyone in our community is invited to join MPPs Jessica Bell, Chris Glover, and I for a free Dim Sum Social on Saturday, April 22, at 11 AM at University Settlement. This is our first Dim Sum Social, and I'm very excited to see you all there. It's even been rumoured that MPPs Bell, Glover and I will be singing a classic Cantonese ballad for our special guests!
If you would like to attend, please make sure you RSVP here, or call me at the community office — (416) 972-7683.
     Coffee With Chris & 

Kristyn



Getting out to connect with returning and new community members is one of my favourite parts about being an elected official. Which is why I am especially pleased to invite you to join MPP Chris Glover and I for coffee at Arvo Coffee, on Friday, April 21, between 9:30 AM and 10:30 AM.
Sign up to have coffee with us here! 
Community Environment Day & Happy Earth Day 
Community Environment Day and Earth Day are two significant days that bring neighbourhood residents together to protect our planet. My son is almost four years old, and I think of him and all children when I take social action to make a positive impact on our environment, not just on Earth Day but every day!
These occasions provide a unique opportunity for us to raise awareness about environmental issues and showcase the importance of taking action to preserve our natural resources, like the Greenbelt.
As we continue to face the challenges of climate change in Ontario and all over the world, it is more important than ever that we work together and protect our beautiful green planet for future generations. I encourage you to participate in Community Environment Day and Earth Day events in our great riding of Toronto Centre. Let's demonstrate our commitment to building a sustainable and resilient community together.
Community Environment Days is one of many ReduceWasteTO programs and initiatives supporting the City's Long Term Waste Management Strategy. This program helps reduce the amount of reusable or recyclable waste going to landfills and allows for the safe disposal of household hazardous waste.
In 2023, there will be 45 Community Environment Days held across the city from April 15 until September 24. There will be a community event at Regent Park on Saturday between 10 AM - 2 PM if you are interested to participate! 
Click here to learn more about the Community Environment Days.  


Community Clean Up Events

See below for some of the Community Clean Up events happening in Toronto-Centre: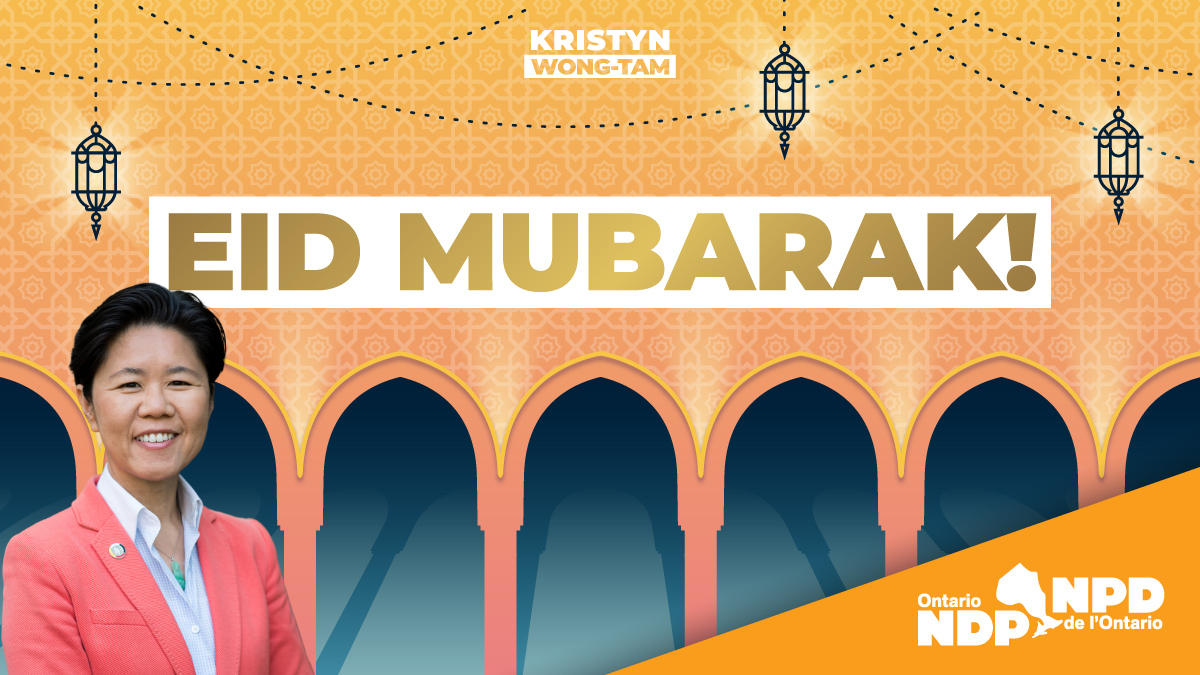 From my family to yours, Farrah and I are sending the warmest wishes to all those celebrating Eid al-Fitr! As we mark the end of the holy month of Ramadan, let us reflect on the values of compassion, generosity, and community that this remarkable month instills. Such benevolent values are universal, so let's cherish them together.
Eid Mubarak!
The Speaker's Book Award recognizes non-fiction works by Ontario authors who reflect the diverse culture and rich history of the province and of its residents. The winning book is featured at the Legislative Assembly Gift Shop and in the Legislative Library. A monetary prize is awarded to the recipient. Please share this award opportunity broadly in your communities, as it's a great way to promote Canadian literature and, more specifically, local authors.
Click the link to learn more about the application process and the eligibility criteria.

In Solidarity,
Kristyn
Kristyn Wong-Tam
MPP, Toronto Centre